Kotton of MS' Web Page
American Eskimo Dog (medium coat) : : Male (neutered) : : Young : : Medium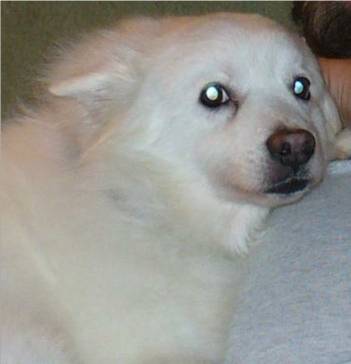 Won't you think about sponsoring me?
Learn more about the American Eskimo Dog.
About Kotton of MS

Status: Available for Sponsorship
Species: Dog
Rescue ID: 07-027
General Color: White
Color: White
Current Size: 32 Pounds
Current Age: 18 Years 4 Months (best estimate)

Location: Columbus MS 39701
Declawed: No
Housetrained: Yes
Owner Experience Needed: Breed
Reaction to New People: Cautious
***Location: Columbus, MS***

Hello, I'm Kotton. Forgive me if I seem a bit down, but I consider Eyeore one my best friends. My story is very sad. My original owner passed away and I was found in the house with him. The animal control people did what they could, but the only way they could get me away from owner was by using one of those catch-poles. I went to a shelter and then to a family. The family tried really, really, really hard to work with me, but I've been severely traumitized. So I came into rescue.

I am now living with a bunch of other dogs who are a lot like me- special. So special that they're trying lots of things to help me. And I'm told that kind of help needs something called money. So while my foster mommy helps me, would you consider sponsoring my care? I don't know when I'll be available for adoption, it could be a long time, so your donation can help off-set my bills.

Kotton
More about Kotton of MS
Good with Dogs
,
Is Not Good with Kids
Whenever possible Eskie Rescuers United tries to adopt out its dogs locally (or at least to adopters in adjoining states to where I'm being fostered). Please note that ERU processes LOCAL adoption applications before considering those from out of state.

If I'm not local to you, as explained above, and you really have your heart set on me, you will have to make special arrangements so ERU can get me to you safely (for example, flying me to you at your own expense, or paying a transport group to drive me to you). Note: We may ask that you to make a donation to cover transport costs if the distance is great and we have trouble finding transport drivers.

There is an adoption fee required; and, please be aware, Eskie Rescuers United will not adopt out its dogs as outdoor dogs.
---
Eskie Rescuers United American Eskimo Dog Rescue, Inc. is an IRS-approved 501(c)(3) non-profit organization. Please click the donation button below to make a tax-deductible donation through PayPal and help make a difference to even one American Eskimo dog!